5 Reasons why traditional EHRs don't cut it for ophthalmic practices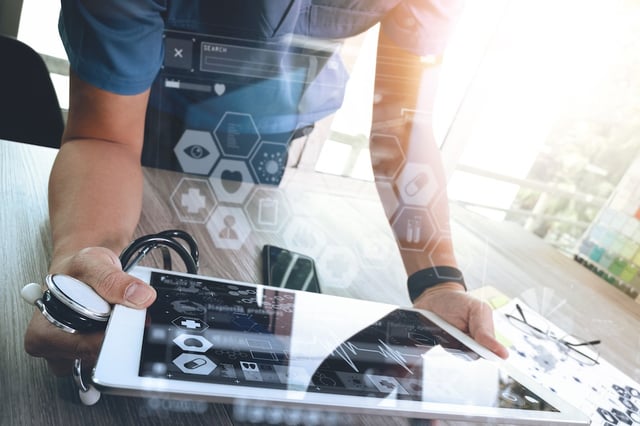 Traditional EHR systems do not meet ophthalmologists' functional requirements. This is what an August 2011 report published by the American Academy of Ophthalmology (AAO) says.
The paper which is titled 'Special Requirements for Electronic Health Record Systems in Ophthalmology' argues that the field of ophthalmology has a number of 'specialty specific' requirements that are not taken into consideration by traditional EHR systems. Its abstract reads:
Ophthalmologists often lament the absence of these specialty-specific features in EHRs, particularly in systems that were developed originally for primary care physicians or other medical specialists."
Recent conversations I have had with ophthalmologists suggest that the findings of the AAO paper are as relevant today as they were in 2011.
So what do traditional EHRs lack that motivated the AAO to write the paper?
1. Imaging and annotation
Ophthalmic practice relies on a critical combination of diagnostic imaging, numerical and text based data to diagnose and treat patient eye conditions. The AAO's arguments evolve around this.
Ophthalmologists typically document their clinical findings by way of sketches, hand drawn on paper-based forms. This often includes anatomical templates of eyes. Along with machine imaging, numerical and hand written text, these sketches form the basis of an ophthalmologist's progress notes.
Traditional EHR's primarly depend on keyboard-based data entry and lack functionality that facilitates hand drawings or annotations. The AAO paper finds that this is the cause of many ophthalmogists frustration.
2. Ophthalmology Progress Notes
Viewing and comparing images and numerical data from past appointments is a critical aspect of tracking progress of patients' conditions. This is especially pertinent for degenerative conditions of the eye such as macular degeneration and glaucoma.

The table above shows the progress of a patient's ophthalmic vital signs over a number of visits.
The AAO paper has found that traditional EHR's have no mechanism to report on these 'vital signs'.
Typically, ophthalmologists using paper-based systems will have machine images printed to paper and assembled in the patient record. The ophthalmologist will then remove the images and set them side by side on a table to review and compare.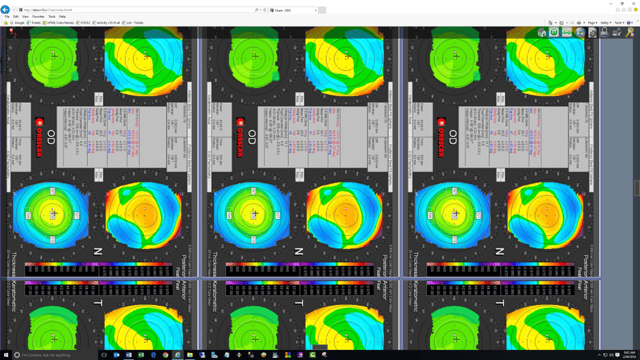 The above image is taken from a modern digital document system and demonstrates the
essential requirement to be able to view and compare multiple machine images side by side.
The image above shows how ophthalmologist can quickly review and assess images and annotate on them as required.
The AAO paper found traditional EHR's have no useful mechanism to display images in this way.
3. Vital Signs
EHRs used by ophthalmologists are large complex systems designed for hospital or medical specialties other than ophthalmology, the paper found.
The use of vital signs in traditional EHRs generally centres on traditional measurements like blood pressure, height and weight rather than ophthalmic vital signs such as visual acuity (VA), intraocular pressure (IOP), cup disk ratio (CD), retinal nerve fibre layer (RNFL) and pattern standard deviation (PSD)
What is more, traditional EHR's clinical documentation includes history of present illness and family history, whereas past ocular history and ocular medications are generally absent.
4. High Volume
Ophthalmic practices tend to be high volume consultancies involving screening, refraction and dilation which means considerable patient volumes need to be managed in quick succession.
Ophthalmic practice workflows usually involve technicians and orthoptists using measuring and imaging devices whose outputs are reviewed and interpreted by an ophthalmologist.
Practices frequently combine medical surgical services where surgical procedures can occur either in the office or in operating rooms. For example, small procedures such as injections for macula are performed by technicians within the office environment.
EHR's are generally consultancy based, the AAO found, and do not allow the exchange of data across to surgical management systems or vice-versa. This causes further problems for ophthalmology as consultancy and surgery are closely intertwined.
5. Terminology and interoperability
The high volume patient throughput of ophthalmic practices call for fast and efficient exchange of information between EHRs and other information systems and devices.
Unfortunately due to the use of EHRs proprietary or vendor specific formats this often creates a bottleneck. This is especially true forpractices that use a range of different brand devices.
As the paper states:
The authors believe that this locks ophthalmologists into particular vendors and into added fees for new devices, and that this ultimately limits the ability of EHRs to transform the practice of medicine efficiently.'
it then goes onto to state that EHR's should make use of international standards for interoperability such as DICOM and HL7 and clinical terminology such as SNOWMED CT
Conclusion
In its paper, the AAO concluded that, 'Among EHRs that are being used currently by ophthalmologists, many are large, comprehensive systems that originally were designed for other medical specialties or large enterprises (e.g., hospitals, health plans), and therefore pay little attention to the unique needs of ophthalmology.'
So it seems that ophthalmologists will need to either battle with an EHR that's like putting a cube in a round hole, or persist with their paper-based records.
However there is some light on the horizon as there are now modern digital document systems on the market that will allow practitioners to use their existing documentation in a digital format on a tablet PC. This will give ophthalmologists the ability to utilise their traditional assessment methodology combining images, numerical and text based data, visual acuity and intraocular pressure progress data and annotation.