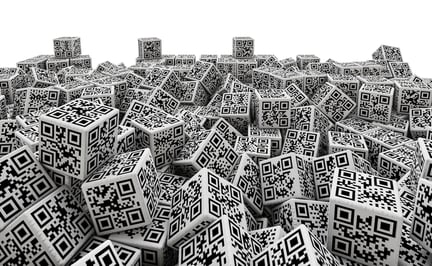 In my blog post titled "What you need to know about Surgical Instrument Direct Part Marking (DPM)" I wrote about the laser etching process. The post discusses what equipment is required for etching your instruments and the logistic aspects of the process as well as some of its positives and shortcomings. Today I will revisit some of those concepts but with a wider context as to why you need to etch your instruments.
Generally CSSD managers understand the benefits of laser etching, so today we will see why it's not already done for you when you buy an instrument.
So you have made the decision to mark your surgical instruments with 2D data matrix barcodes. A good decision that has the potential to transform the instrument assembly processes. It can facilitate shortened assembly times and minimises the need to memorise instrument names. Team members simply scan a barcode on an instrument and the computer confirms whether or not it is the correct item and lets you know when the tray is complete.
Laser Marking Machine
To etch 2D data matrix barcodes the first thing you will need is a laser marking machine. Cost is a major factor to consider. A good quality laser marker will set you back between $80-100K.
Staff
Surgical instrument marking with a laser is time consuming. Expect to allocate one full-time staff resource to focus on this task alone. So how much will that cost?
You can reasonably expect to comfortably mark 6 instruments per hour. Some etching equipment companies claim you can do much more than that and it is true that laser marking equipment is becoming more efficient all the time. However in my experience, 6 per hour is a realistic figure to plan around, particularly when your staff are learning.
Let's say an average size facility will have an inventory of approximately 15,000 medical instruments. If we mark 6 instruments per hour and multiply that by 8 hours = 48 instruments per day. Multiply that by 5 days and you have marked 240 instruments a week.
So if we divide the number of instruments (15,000) by 240 we find that it will take 62.5 weeks to mark all instruments.
Assuming your technician's rate is $25/per hour, that equates to a cost of around $62,500 to mark those instruments.
Bigger city facilities may have twice or three times that inventory. Do the math on that and you're talking years and up to 3-times the cost.
So if we add up your total investment in assets (laser marketing equipment) and staff resource, the first year cost for an average size hospital would be between $142,500 and $162,500. That works out at a cost of $9.50 to $10.80 per instrument!
What will DPM Scanners and Readers Cost?
Once your instruments are marked with 2D data matrix barcodes you'll need Direct Part Marking (DPM) 2D scanners or readers to scan the codes. The location as to where you scan the instruments, will impact your total investment in readers.
If you have 3 packing benches and you want to track the return of the items to CSSD from theatre, I estimate you will require 6 scanners at an approximate cost of around $3,000.00 each which adds a further $18,000.00 to your overall invesment in instrument marking.
Are there any risks?

Ok, let me play devil's advocate for a moment. What can go wrong?
Instruments can and do get damaged in the process of handling them on and off the laser machine.

Laser marks are subject to wear and tear and often can't be read at all or just intermittently. Consequentially you may lose your tracking servicing history for the instrument that won't scan.
Instruments will rust
The laser used for marking instruments are Class 4 and Class 2 laser devices which produce diffuse reflections that are hazardous to the eye and skin. They also have automatic doors (crush injuries) and they may generate hazardous fumes.
Who's Responsible for Instrument Marking?
So you've just invested a large chunk of your budget on new surgical instruments but they are supplied without data matrix barcodes on them. Now you are faced with having a further significant investment to put a data matrix barcode on them. Effectively the manufacturer has passed on the cost and associated risk of laser marking to the customer.
But hang on a minute…. the manufacturer has marked the instruments with their brand and their serial number. Well, why the hell don't they put a data matrix barcode on them at that point! Surely that makes sense? It's the most cost effective time, has the lowest risk and its part of a quality controlled process!
So why does this happen? Because the customer doesn't demand it!
Conclusion
If you have many older instruments it will be necessary to make the required investment in the technology and resources. However for new instruments there is no reason why hospitals need to assume the cost and risk of laser etching surgical instruments.
Next time you are in the market for new instruments, particularly if you are tendering for a sizable quantity, make it a mandatory requirement that the instruments are uniquely marked with data matrix barcodes. Those vendors who won't provide this service should be eliminated from the short list.
The only way that manufacturers will ever begin to supply instruments with data matrix barcodes on them is if YOU demand it.