Somewhere in a health care clinic in the inner suburbs of a large Australian capital city – Tuesday 8am
Hey Betty...Have you seen the chart for Mr Smith...? I got it out yesterday afternoon with a bunch of others as we have a really busy day today.
Actually Nancy, think I saw doc grab it as he walked out yesterday...he said something about reviewing something or something.
Betty, can you ring his rooms please and organise a courier Mr Smith will be here any minute.
Oh… good morning Mr Smith. Please take a seat, we'll be with you shortly...
Sound familiar? Read on.
Somewhere in a cafe in the inner suburbs of a large capital city – Tuesday 2.30pm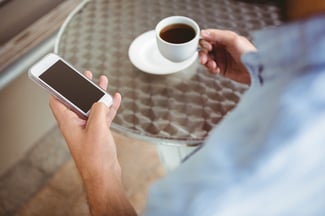 Ring ring… Hello it's doc here…
Hello doc it's Jenny from the clinic here...Mr Smith has come in and he is still in some discomfort…
OK… let me have a look at his chart.
Doc opens a browser on his phone, types in the web address for the clinic's digital patient records system. He logs in, views the patients chart, takes note of Mr Smith's allergies and writes a digital prescription.
Hey Jenny are you there? Yes doc…..
I have written a script for Mr Smith can you log into his chart and print it out for him please?
OK doc. Done.
Sound familiar? Well perhaps not… but it could be.
Paper Charts are expensive to create and maintain and inefficient to use
For every new patient you book you need to print all the standard chart documentation and assemble it in the correct order and bind it in a chart.
That chart needs to be stored and kept safe to comply with statutory obligations. In Australia this means storing inactive individual patient medical records for a minimum of seven years from the time of last contact (or until the patient has reached the age of 25 years - whichever is the longer).
Handling paper charts is time consuming. Each time you need to retrieve it, you physically have to search through filing systems, ascertain that the chart you have actually belongs to the intended patient and you will need to add whatever extra documents are required for his next visit.
Moreover, ensuring that documents are versioned and current as well as preventing superseded documents from being used ads another significant administrative burden. Obviously it is essential to meet stringent quality assurance standards.
The cost of medical records storage
Then there is the physical space that is taken up by storing paper patient charts. Every hospital and clinic that uses paper charts sacrifices significant space to document storage. This is valuable real estate that would otherwise be available for additional diagnostic equipment or consulting rooms. Improved use of the space (for which you are already paying rent) can facilitate an increase in the number of patients you see or even enable you to take on another partner, without any additional investment in real estate.
As compelling as these arguments might be, the real drawback of using paper charts is that they can only be accessed in one physical location as a time. Here are 2 very common scenarios that play out in clinics, hospitals and other healthcare facilities across Australia every day:
1. The patient is here, but the chart is not
In the first scenario the patient had arrived, but the chart is somewhere else. This creates a number of issues including:
The patient needs to wait unnecessarily
A bottle neck is created
Lists need to be re-organised and patients need to be shuffled.
If the chart can't be located in a timely fashion an interim one needs to be created
2. The doctor is ready, but the chart is not
In a reverse scenario, after the patient arrives, he undergoes some pre-consult diagnostic process such as a scan, an X-ray, or perhaps an eye test. The chart goes with the patient as he or she sees each clinician.
The patient is shown to the waiting room and waits, while the clinician writes their findings in the chart for the doctor to review.
Now imagine...
If the doctor could access the chart simultaneously. He or she could familiarise himself with the patient's history, previous diagnosis and treatments. He could even see the notes that the clinician is writing in real time. The patient could actually already be in the room with doctor! No waiting!
However, the current reality is that both doctor and the patient must wait whilst the clinician fills out a form. It's a common but unncessary scenario. The technology is here to change this and create a better experience for patients and practioners alike as well as reduce the signifcant overheads associated with running a healthcare facility.
The good news is that you can free your clinic from the shackles of paper and transform your business performance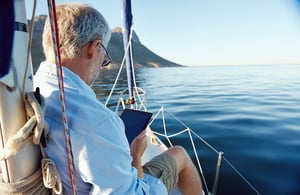 A good digital patient records management system will provide anywhere 24/7access to your patient record and enable you to collaborate with other members on your team. This alone will transform your clinic's performance.
A web based digital patient records system can be accessed from anywhere in the world by as many people as you like at the very same time.
That café in the scenario above could be a sun lounge on a beach in the Maldives. Or it can just be in the next room in your consultancy. The fact is you can access it when and where you want.
Accessing patient charts through mobile platforms can lead to signifant business improvements including:
reduced waiting times
fewer bottle necks
streamlining of processes
increased patient satisfaction
optimal business performance and reduce costs.
Worried that transitioning to a paperless system is a cumbersome and difficult project?
You might like to read this article we posted with tips on how to make the transition from a paperbased to digital patient chart system.