AS2828.1 is a standard that specifies the requirements for the physical aspects of health records. It covers size, quality, layout, and colour. The objective of the standard is to improve the quality of health care by facilitating communication between healthcare professionals. Standardisation of medical record across health care facilities can help achieve this.
Apart from the physical characteristics of the paper (size, grammage, quality and colour), the standard uses 2 main components, categories and colours, to assist with:
accurate filing and storage
ease of access by users
facilitation of improved record retrieval
standardisation for both paper-based and electronic forms as well as hybrid records.
AS2828.1 Categories and Colours
Each document should belong to a category that best describes the type of document it is. For example, documents relating to patient consent would belong to a category of documents called 'Consent and Legal'. This then allows succinct grouping of all documents relating to this category in one section of the medical record. Further to that, each category should have a colour attributed to it as its 'colour code'. The colour should be displayed as a band on the right hand side of the document. This facilitates easy identification and retrieval of documents from various categories within the medical record.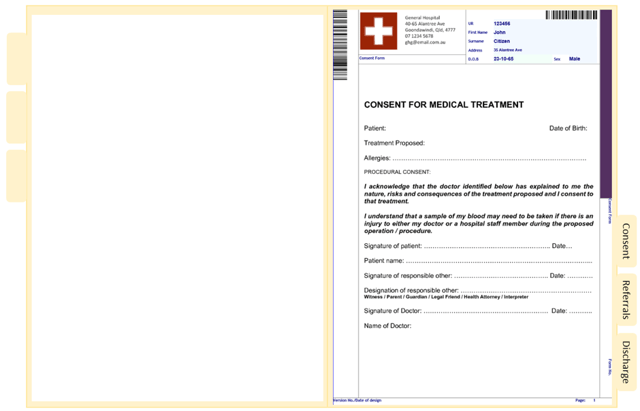 The diagram above shows a mock-up of a typical paper medical record. You can see the category divider and the category colour on the document.
The standard requires the use of 'Pantone' colours for all colour coding. Pantone is an internationally accepted colour matching system.
The AS2828.1 standards list a number of categories and their matching colors. It is not meant to be definitive and healthcare facilities may use their own categories and colors as long as it is standard across the whole facility.
Below is a table I have put together to help simplify category and colour selection. I have also included the RGB (Red, Green, and Blue) and HTML converted colours. These are useful as many drawing applications do not support Pantone colours and if you want to use them on a web site you'll need the HTML converted colours.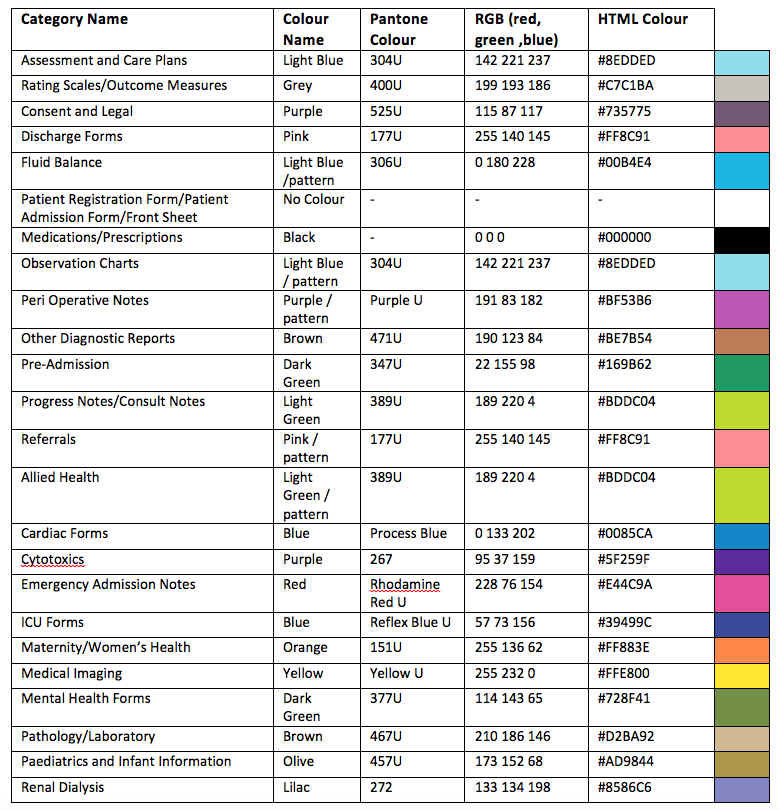 Note that some of the colours have patterns as well as colours. A pattern can be horizontal, vertical, diagonal and can also be shapes. Below is an example of a colour strip with a pattern.

Be careful when using your own colors if you need to convert them to RGB or HTML, there are many websites about that offer the conversion information, but in my experience it's hard to find one that's accurate. Best to use the Pantone website colour finder.
Conclusion
The AS2828.1 standard is designed to make it easier to find documents in your medical records. By assigning categories and colours to your documents, you will be able to find that important patient note quickly when you really need it.
There is however a bit of work involved in getting it set up, so if you are thinking of moving to a digital medical records system, it may be worthwhile asking prospective vendors how they can help you with AS2828 compliance.
And while it would appear on first look that the standard is relevant only to physical paper records, the standard requires that when digital medical record systems such as EMR's print out medical records, they must be in an AS2828.1 compliant format.